Omni History
Omni Boards Australia as it is now was founded in 1987. Though "Omni's" roots in skateboarding go way back to about 1972/73 when the founder Cary Pogson, started skateboarding and surfing. Making his first surfboard around 1974, registering Omni Surfboards Australia in 1978 as a business name, all the while skateboarding and making his own skateboard decks.
Images; Single fin surfboards 1976, Cary and Colin with some "Omni" surfboards 1982, Cary North Ryde skatepark 1982.
Straight out of highschool Cary worked for a year as a fibreglass laminator. Growing up in a woodworking family, his father built church pipe organs from home, he already loved working with wood and sort out a carpentry apprenticeship with Kell & Rigby where he worked on light industrial construction projects. After his apprenticeship he was offered a position in highrise construction as a field technician operating slipform and jumpform, hydraulically operated, self climbing, formwork systems.
Images; Rialto Towers, Melbourne 1982, Ravensworth Coalwashery 1983, Grosvernor Place, Sydney 1985, #1 O'Connell St, Sydney 1989.
In the early 80's "Omni", Cary, ventured into snowboarding making prototypes in 1984 and 1985, later becoming the first in Australia to mass manufacture snowboards in late 1986. Just prior early 1986 Cary was a part of the first "Australian Snowboard Team" they travelled first to Gulmarg, in Kashmir India, where he learnt to snowboard, only having a single ride backcountry in late 1985. The team were in fact the first to snowboard the Himalaya's, Geoff Sawyer was invited there to be part of a ski video for the Indian Tourist Bureau in a video called "Ski High Ski Himalayas" when asked if he wanted to come with, Cary said yes with no hesitation. The three also formed the NSW Snowboarding Association in late 1985.
Images; Left, Geoff Sawyer, middle team captain and driving force in snowboarding in Australia, Adrian Gibbs left and Cary Pogson right, Gulmarg. Right, Hanging with the 1986 Burton team after they took out the US Open, Stratton Mt Vermont USA. Andy Coghlan right, 1st Slalom, 1st Downhill.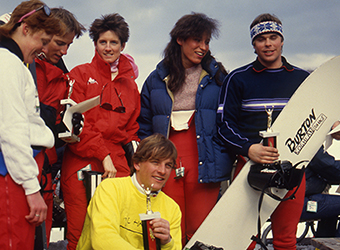 After Gulmarg, the team went on to the USA competing in the "US Open" in Vermont and then Geoff and Cary carried on to the "World Titles" in Breckenridge. Coming back to promote snowboarding during the 1986 season. Prior to the 1986 snow season opening they were given a booth at the Homebush ski show Sydney, there the three of them performed snowboarding demonstrations every two hours on a sketchy artificial snow slope. Their booth was 20 deep after each demo with people wanting to know more about snowboarding. Thank Geoff Sawyer for his persistance in pushing for snowboarding to be allowed in most all ski resorts in Australia, prior to then it was banned in most all resorts.
Images, Cary left Geoff right at the 1986 Homebush ski show booth. Cary during the snowboard demo on the "permasnow" slope
At the end of the 1986 season "Omni", Cary, was the major sponsor and part organiser of the first snowboard contest ever held in Australia the "Omni OZ Classic" held at Guthega ski resort in Sept 1986. 17 people entered that year, 15 men 2 women. Cary placed =2nd in the 1/2 pipe, 3rd in the dual slalom and 4th in the giant slalom riding a prototype snowboard he made a few weeks earlier.
Images; Cary, giant slalom, 4th place. Fresh new Omni snowboards ready for the opening 1987 snow season, Thredbo.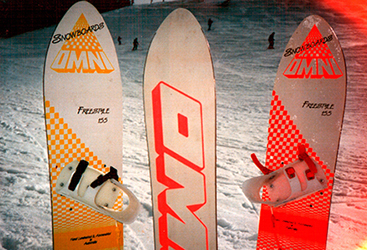 The venture into snowboarding didn't go well business wise, being too early for the later boom. Being told by the owner of one very large ski shop on the Northern beaches, Sydney " Snowboarding ? ... that'll never take off" Cary was forced to move back home to Sydney from the factory in Ulladulla he had set-up to make snowboards. Back home at mums place, Sydney in 1987 and back working on highrise construction again after a few years off. Working highrise during the day and skateboard manufacturing at nights. Cary then started full on skateboard manufacturing, registering "Omni Boards Australia" as a business name in the same year, and started the full on manufacture of skateboards at night.
Images; Right, Cary pressing pretty much the first batch of skateboards. Left, press and some more snowboards, late 1987.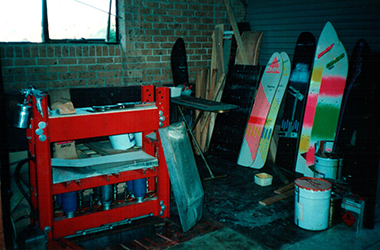 In 1990 Cary was able to move from Sydney down to Ulladulla as skateboard sales had picked up and he was supplying a number of skate shops in Sydney and some regional areas. But not long after moving to Ulladulla and with a baby on the way, skateboarding died. Times were indeed very tough for a number of years, but he kept working when he could and the odd sale kept him ticking over making boards from home. Street skating started to emerge and the new team reflected this with the likes of Cameron Goozeff and Alex Smith.
Over the years Omni Boards has sponsored heaps of Australia's best skaters, names you may or may not be familiar with. You should really check out our team page. The names are a veritable Who's Who of Australian skateboarding in the late 80's and 90's. Business was going ok after two years or so, but the local council received noise complaints and wanted to shut him down as he was working from home still, he managed to find a small factory to move into and put on his first employee. That lasted about 6 months before a bigger factory was needed along with a few extra workers. Images; 2 left, first small factory1994 ? Two images right, 2nd much larger factory, 1994/95.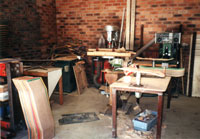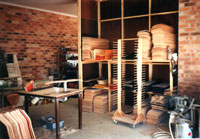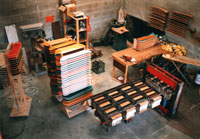 Over the years Omni moved around a few different factories in Ulladulla. In 2003 Cary decided to move from Ulladulla to Mt Beauty Victoria. He set up a factory and rented a house with a shop attached, where he opened a snowboard/skate shop. That only lasted 3 years to the day when he moved back to Ulladulla in 2006.
High manufacturing and labour costs, along with ever constantly lower prices for imported skateboards meant "Omni" could no longer sustain manufacturing here in Australia. In 2004 Omni toured a number of factories in China, checking out manufacturing quality and standards. Finding a factory who could produce decks to the high quality standard worthy of branding with our hard fought name. Omni did go through 3 factories over about 6 years till we found and settled on what we would consider the most professional skateboard factory in China, who makes boards for many big USA and international brands.
We work closely with our deck supplier making sure we have great concaves and use our custom shapes that are ever evolving. The same goes for all our other suppliers of hardware, sourcing direct from the factory so we have control of quality and get the best prices to pass onto you.